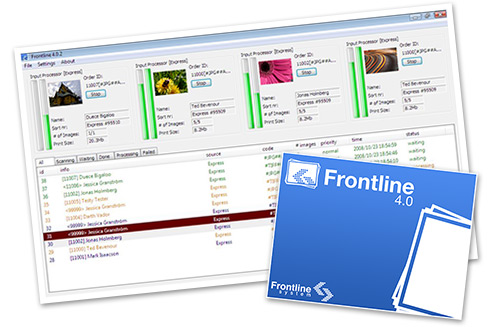 What is Frontline?
Frontline is a completely automatic workflow solution for photo lab's including online ordering and centralized image management.

With a hub-and-spoke configuration, all images being sent to Frontline have full access to all our various image and management processes and can be sent to any connected output device.

Learn more about our products
Why you need Frontline.
Frontline offers you an automatic workflow to increase your labs productivity and throughput. With Frontline prepairing your orders and ensuring quality control, maximum throughput and printer speeds can be achieved. In addition, with FrontWeb your various products can be online and within ordering reach of your customers 24-7.

Interested?
Fill out our interest form
Everything you need is included

With Frontline 4.0 we introduce a new price point where everything you need is included from the start! You buy a licence to match the throughput of images you want to manage each day and if your lab exceeds this amount, you can easily upgrade to the next license amount.
Frontline is a one time purchase. You do not need to rent the software, pay annual licenses, hosting fees or increasing click charges. Quite simply, you own it without restrictions.

Native 64-bit support
Frontline V4 now includes native 64-bit support for those that want to utilize this technology′s benefits. 32-bit is of course also supported.

Administrator Overview
With the Frontline V4′s new tab and sort queue structure, operators can quickly receive an overview of daily operations.

Auto-Color Correction included
Automatic Color Correction is now by default included with all license amounts.